By NIDA ALI
August 1, 2017

"This is obviously satire. No woman is at fault for rape. No woman is ever asking for rape. And no woman deserves to get raped."
---
Canadian judge tells rape victim, she should've kept her knees together.
A Knoxville man is charged with the rape of 9-year-old girl.
Three men gang-rape a woman in Sweden and broadcast it on Facebook Live.
Baylor football players committed 52 rapes in four years.
A woman is raped by her two neighbors and 18 days after one of them got bail, she committed suicide.
A 12-year-old Indian girl is gang-raped by her school principal and three teachers.
Per the Rape Abuse & Incest National Network, every 98 seconds, an American is sexually assaulted, ages 12-34 are the highest risk years for rape and sexual assault, one out of six women in America have been victim to attempted or completed rape and 94% of women who are raped experience post-traumatic stress disorder.
Just last week, Justice Robin Camp of Alberta Federal Court resigned for comments made towards a 2014 rape victim trial. Camp asked a rape victim in court why she couldn't "just keep your knees together." He questioned her efforts for self-defense while someone raped her.
I mean, it's as simple as that. Better your methods of self-defense.
Rape and sexual assault is a widespread problem that seems to have no solution. Women are raped around the world and very few receive proper retribution for their trauma. The trauma is well served; after all, it is their fault.
Ladies, what are we thinking? We hold the keys to our security. What is a man to do?
We may not know how to stop rape from happening, but here are ways that you can avoid getting raped (according to societies, brown aunties and entitled men around the world):
Say no to red lipstick
Did you know? Men may be tempted to rape you based on what shade of lipstick you choose to wear! Avoid wearing bright shades of lipstick that will call attention to your face, like red, pink, purple and violet. Not only will they attract men to you, but it is reminiscent of an overtly sexualized woman. Try wearing nude shades and muted neutral shades. Some products to try are: MAC's Velvet Teddy, Wet n' Wild's Bare it All, Sugar Honey Tinted Lip Treatment, Maybelline Clay Crush, Vaseline or best yet don't wear lipstick at all.
Don't wear makeup at all
Your natural features are already a calling card for rapists, why enhance them? Avoid calling attention to your sexually attractive facial features. You have no idea how your winged eyeliner can drive a rapist mad. Makeup is for women who are asking to get raped. Wipe the "come and get it" products off your face for good!
Don't call attention to yourself
We all know flirtation is the mother of uncontrollable sexual urges, right? Right. Our smiles are to die for and also, a rape magnet. Stop smiling, laughing and talking in public. Remember, you don't want to do anything that will call attention to yourself. If you own heels, stop wearing them. You could be perfectly safe until a rapist lurking in the distance hears the click-clacking of your shoes and knows you're coming. Don't be a self sounding alarm for attention.
Cover up!
Get one step ahead of your potential rapist by investing in clothing that will cover some skin! Toss your shorts, mini-skirts, dresses, t-shirts, jeans, tank tops, tube tops, bell bottoms, dress pants, collared shirts, tunics, leggings and sweaters. Stop wearing flip flops and flats. You especially want to avoid rapists with a foot fetish. What is a man to do if he sees your skin? How could he possibly control himself? The more skin you cover, the safer you'll be.
Cover, cover up!
To all you modest dressers out there smirking cause you were right all along, stop. It's time to toss out all your hijabs, maxi skirts, abayas, turtlenecks, loose shirts, cardigans, maxi dresses, scarves, baggy pants and niqabs (face veils). Did you think that was going to help? No way! You're still a victim to rape and sexual assault. Some options for all you women out there, purchase a nice, roomy body bag, fit yourself into it, close it and you'll be less susceptible to rape! Voila!
Stay at home!
Why leave the comfort of your own home and invite rape upon yourself? If a body bag is not within your means or a little uncomfortable for you, our experts suggest staying at home. That will immediately limit your chances of being a rape victim. A woman is safest at home because a woman is weak and can easily be sexually attacked. Let the men in your life take on the outside world because they are strong. So strong that they can't control their strong urges to commit rape. Come on now, don't give them the opportunity to rape you.
Keep your knees together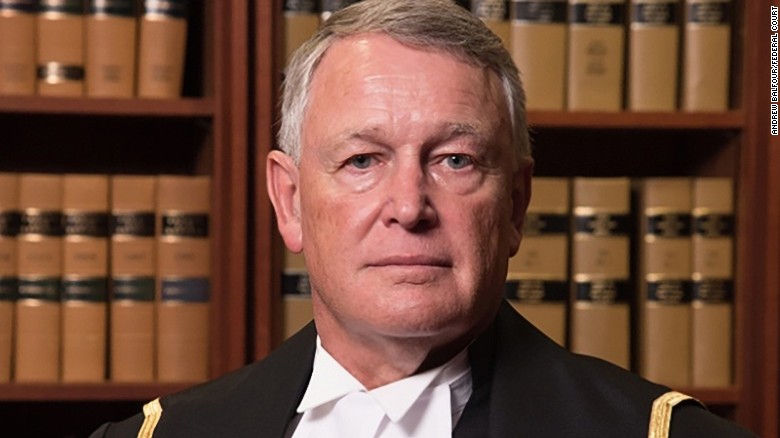 CNN
As Justice Robin Camp so wisely said, keep your knees together, ladies! If you come to the point of rape, make sure your self-defense methods are of highest caliber. All you really have to do to stop a psycho man from raping you is KEEP YOUR DAMN KNEES TOGETHER. If you can't hold them there, I would suggest tying them together with rope or gluing them together, perhaps. Remember, use Gorilla Glue not a hot glue gun. Gorilla Glue is a lot stronger.
Get married!
A single woman is always prey to sexually charged rapists. Don't surround yourself with men and the opportunity to get date raped or sexually assaulted by a friend. Find yourself one, trustworthy man. Get married and you'll lead a safer life. We assure you!
Don't be a woman
Let's be real, there have been various accounts of marital rape where husbands sexually assault and rape their wives. Rapists have been reported entering homes and raping women in the privacy of their bedroom. Many father figures and male relatives rape the women in their families. Women of older ages and sexual appeal are not the primary victims of rape. Young babies and little girls that have not reached puberty are raped all the time! The problem is clear then. These scenarios have one thing in common. Women. The expert way to avoid being raped is, avoid being a woman.
P.S.: To all the people nodding in agreement to all our methods to avoid rape, one out of every 33 men are raped or sexually assaulted in America. What does your expert opinion suggest for them?
P.P.S: This is obviously satire. No woman is at fault for rape. No woman is ever asking for rape. And no woman deserves to get raped.