By KRYSIA OLSZEWSKA
March 12, 2017
"From March 3rd-5th, over 200 people from across the nation met at an Abortion Access Hackathon, hosted at GitHub headquarters in San Fransisco, to create technological solutions towards the ever-growing problem of abortion accessibility, as well as other current problems related to reproductive health."
---
The election of Donald Trump and his administration's proposed bills and propositions have drawn more attention to the subject of abortion in recent times. For example, the Hyde Amendment, first introduced in 1976, says that that no federal funding can go to abortion services.
Each year since, it has had to be renewed. However, this year, anti-abortionists are seeking to pass the HR7 bill, which would permanently prevent women from getting abortion care covered if they receive healthcare through Medicaid, the U.S. military, the Indian Health Service or the Peace Corps.
The possibility of severe restrictions on abortion and women's rights have resulted in efforts to bring change.
Carpe Diem
From March 3rd-5th, over 200 people from across the nation met at an Abortion Access Hackathon, hosted at GitHub headquarters in San Fransisco, to create technological solutions towards the ever-growing problem of abortion accessibility, as well as other current problems related to reproductive health.
Coders, designers, social activists, and nonprofit representatives alike teamed together, creating a total of about 20 projects by the third day.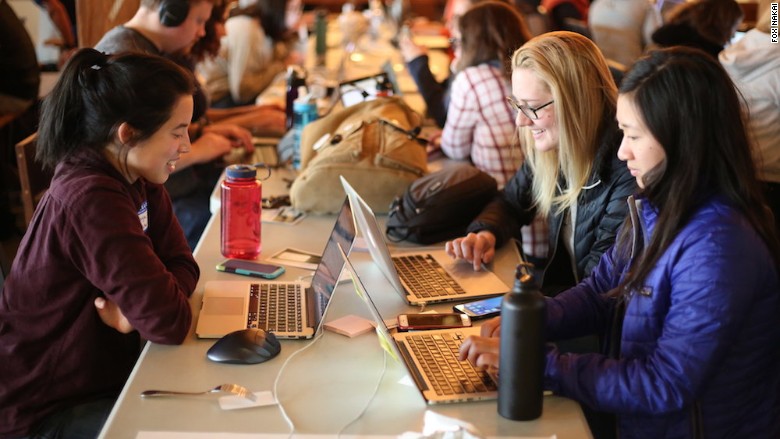 CNN Money
When a similar abortion access hackathon was hosted at UC Davis before the most recent election, there were about 20-30 attendees, whereas, this hackathon had about 600 applicants, going over capacity.
The HR7 Bill would cripple access for many women, leading them to pay out of pocket.
"The huge turnout is a testament to how angsty people are feeling about getting something effective done to resist the current administration," said one attendee, who preferred to stay anonymous. "Protests are fun, and that's how I got started. But, at a certain point, you have to figure out how to roll up your sleeves and build something sustainable that will actually help people."
Another attendee said she knew from years of nonprofit work that this was always a problem and that "it isn't any more of a problem now than before," but she was "happy that the subject is getting more attention."
The HR7 Bill would cripple access for many women, leading them to pay out of pocket. Currently, women living in states where Medicaid does not cover abortion services have to pay out of pocket. Potential financial burden causes this necessary medical procedure to effectively be available to only those who can afford it.
Other factors that may restrict people are location, as many centers are now closing down, and whether someone has the ability to take time off work.
As someone from Access Women's Health Justice said, "People who are lower income are stigmatized, and policies leverage against them to deny them real access and real choice. So, saying pro-choice isn't the same as saying reproductive justice".
One the other hand, Barbara Lee's EACH Women Act, recently introduced into Congress as well, would open up access to woman regardless of any factors, such as insurance or income.
As of now, when you look at the demographic of people who have been enacting abortion restrictions, it has mostly been men, who do not need abortions.
Reuters
"After the election people were feeling very helpless," said Kate Bertash, co-organizer of the hackathon.
She hopes that after the event, the relationships people in the area build with each other will be empowering, and make them "again feel like they can actively improve conditions by working together."
From apps, to websites, to chatbots, a great variety of projects were created. For example, to make information easier to access and understand, 'Policy Watcher' allows users to subscribe to push notifications about abortion-related policies, bills and political activity in their state(s) of interest; they would then receive alerts emails or texts, along with brief descriptions as well as links for more information.
Another project, ProTalk, encourages sharing of reproductive related stories online in a safe and anonymous way, removing stigma and providing women with a place to learn from each other and heal. Amelia, a chatbot, asks the user questions and gives personalized advice as to which services are closest to the users and would accept the user at their age and stage of pregnancy. This app tackles the problem of ever-changing rules and closed down services by providing updated and personalized data in an easy-to-use way.
The hackathon was not the typical Silicon Valley tech event for many reasons. It featured an unusual (and refreshing) demographic for the usually heavily male-dominated activity, this time with about 75% of attendees identifying as female. It was focused on social change. Everyone had a common goal. It was not a competition, unlike most, and rather everyone supported the other groups in any way possible. And that is especially important right now.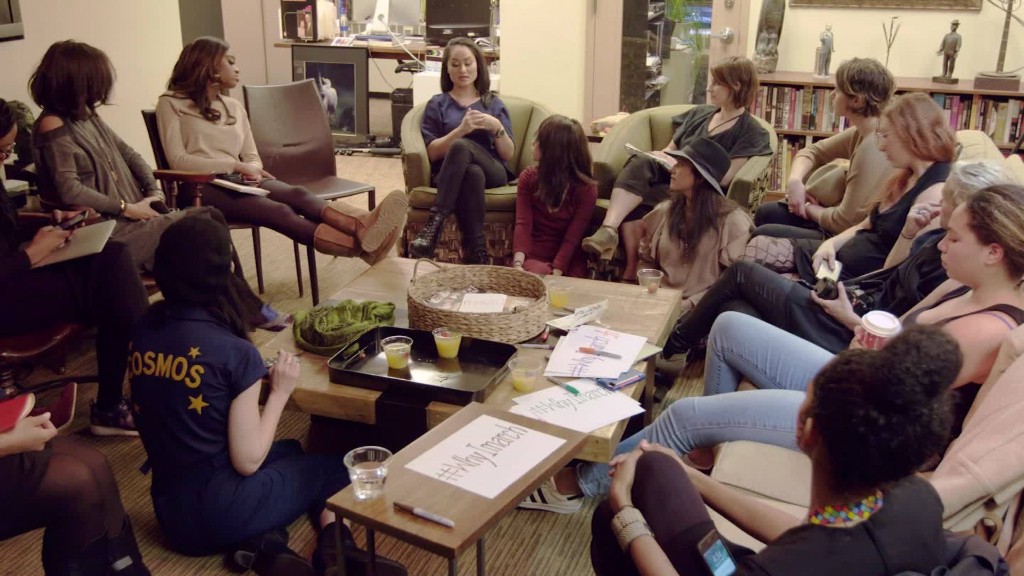 CNN Money
"When you empower more than half of your population to have bodily autonomy," said a man from the nonprofit Access Women's Health Justice, "you end up with a better society, and I think that's why we are all here, working on creating solutions."