By ANTON BUYNOVSKIY
February 21, 2017
"Aerospace gives hope for the future, as the whole world works together towards the same space missions, understanding the vast universe that surrounds us."
---
Boeing Starliner Spacesuits
Boeing recently publicly released their new Starliner Spacesuits. These suits are 40% lighter, more flexible, and more comfortable than the latest NASA spacesuits. These suits come with modern touchscreen gloves and can be pressurized in case of an emergency. This is just one of the many steps that Boeing took to make space travel more comfortable and efficient for the astronaut.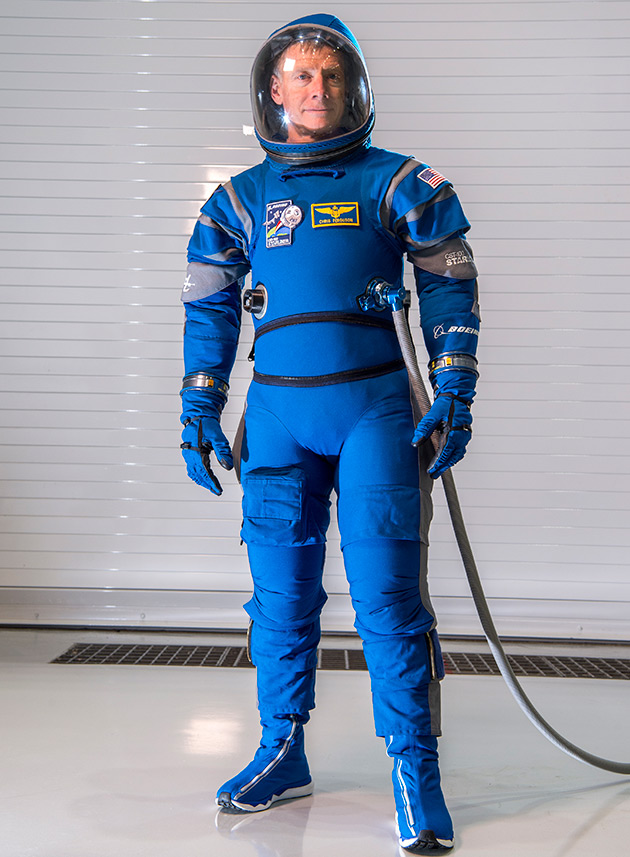 Image courtesy of Boeing
Boeing is one of the largest aerospace companies that has made numerous contributions to space exploration missions. Its latest innovation was a multi-functional spacesuit. The first spacesuits that were used by NASA in its earliest missions have progressed as time elapsed. These spacesuits were upgraded as the space missions advanced and new problems arose.
The first set of spacesuits had little functionality; they did not have their own life supports, but they had a hose connected to the spacecraft. As the missions developed, NASA began to tailor suits for the difficulties of exploring the moon. It had its own life support, stronger boots for walking on rocky ground, and were heavy.
The Aerospace industry is a growing field which receives more and more funding from the government to execute experiments and further research. This industry uses the latest technology to improve every function and create new ideas.
SpaceX's Falcon 9 Rocket
SpaceX's Falcon 9, the rocket ship, is getting more attention as it completes more successful launches and landings. In 2005, SpaceX announced that it would proceed with a "fully reusable heavy lift launch vehicle," named the Falcon 9.
Image courtesy of Non-Profit Radio (NPR)
It got its name because it has 9 first-stage engines, so incase of failure, it can still complete its mission. This space rocket is a two-stage rocket, meaning that it goes through two stages of propulsion before getting to its final destination.
Falcon 9 lived up to its initial purpose of transporting satellites safely into orbit. In 2008, Falcon 9 won a Commercial Resupply Services (CRS) contract from NASA to deliver cargo to the International Space Station (ISS).
In 2012, Falcon 9 created a mark in history when it took the Dragon spacecraft into orbit and connected with the ISS, making it the first commercial company to visit the station. It has since made multiple round trips, delivering and returning cargo and supplies for NASA.
One recent mission Falcon 9 executed was on August 14, 2016, in which it delivered the JCSAT-16 commercial communications satellite to its targeted Geosynchronous transfer Orbit (GTO).
On June 15, 2016, Falcon 9 successfully delivered two commercial communications satellites, Eutelsat 117 West B and ABS-2A, to their targeted Geosynchronous Transfer Orbits (GTO). The two satellites, operated by Eutelsat and ABS respectively, will provide global communication services to a variety of users.
The successes of Falcon 9 give rise to a new standard of transportation. Rockets have now been evolved to have safer transport to further celestial bodies, such Mars, asteroids, and dwarf planets.
Lockheed Martin
Lockheed Martin, an American aerospace, defense, security and advanced technologies company has also been progressing the aerospace industry due to its close ties with developing missile defense. Lockheed's next generation Aegis Ballistic Missile Defense System has just successfully completed its ballistic missile target test. This test shows the capabilities of the Aegis Weapon in countering ballistic missile threats.
Lockheed also joined forces with the US Air Force to launch the new Space Based Infrared System (SBIRS) satellite (https://missilethreat.csis.org/defsys/sbirs/). This satellite was designed and built in Sunnydale, California as part of a series of Air Force satellites that provides multi-mission surveillance in the areas of missile warning, missile defense, technical intelligence and battlespace awareness.
There is no "finish line" in the race to defense systems, but the United States must strive to have the best possible defense mechanism to protect itself from any possible threats.
The Hubble Space Telescope
We've looked at a few amazing innovations that would provide safety in defense and travel, but what lies beyond the shadows of the statue?
The human eye is thought by many biologists to be a perfect aspect of the body, but it's amazing how much our "perfect" eyes can't see.
The Hubble Space Telescope, first launched in 1990, is widely known in the world of astronomy for its capabilities of generating images of space from 10-15 billion light-years away in great detail. That's about 88,180,000,000,000,000,000,000 miles. That's pretty far by comparison to how far the eye can see. This has aided astronomers in finding out what elements galaxies and nebulas far away are composed of and how much of the space is filled by the elements.
Image courtesy of The European Space Agency
The Hubble Telescope has taken about 45 terabytes of data and photos.
A recent post by NASA shows the Calabash nebula, which is the aftermath of the death of a star. This photo is very rare, as this stage of the star's afterlife is relatively short. This Nebula is known as the Rotten Egg nebula because it contains a lot of sulfur, which can smell like a rotten egg, but that stench won't reach the Earth, since it's over 5000 light years away.
The Aerospace industry is a growing field which receives more and more funding from the government to execute experiments and further research. This industry uses the latest technology to improve every function and create new ideas.
Aerospace gives hope for the future, as the whole world works together towards the same space missions, understanding the vast universe that surrounds us.