ByAFIA EAMA
September 24th, 2018
"Ford waited 20 years to share her trauma with another person and waited 30 years to seek professional help regarding it."
---
Christine Blasey Ford has become a familiar name discussed in the news. Ford, a widely published psychologist and professor of statistics at Palo Alto University, presented claims against the Supreme Court nominee Brett Kavanaugh for assaulting her almost four decades ago. The timing of the assault has raised several questions as well as comments from President Trump.
Currently, no decision has been made on the topic. However, the development delayed Kavanaugh's confirmation as Supreme Court justice. The past week was spent in an effort to get Ford to recall the happenings of the incident to the Senate.
Ford requested an FBI investigation to verify the crucial facts and key witnesses before her hearing. When her request was rejected, she reached a decision with the Senate Judiciary Committee to testify against Kavanaugh on Thursday, September 27th.
Mark Judge, a classmate at Georgetown Prep watched Kavanaugh undress Ford while both boys were highly inebriated. "With Kavanaugh's hand over my mouth I feared he may inadvertently kill me," Ford writes in her letter to Senator Feinstein.
In light of Ford's courage, Deborah Ramirez came forward and accused Kavanaugh of sexual misconduct during their college years at Yale. "Kavanaugh had exposed himself at a drunken dormitory party, thrust his penis in her face, and caused her to touch it without her consent as she pushed him away," The New Yorker reported.  
In events like this, the common points discussed are the ones that also came up during the #MeToo movement. Both criticisms and appraisals. The question becomes one of exactly how we, as a society, should handle cases of sexual assault.
Some, like President Trump, argue victims should come forward with their claims as soon as they happen.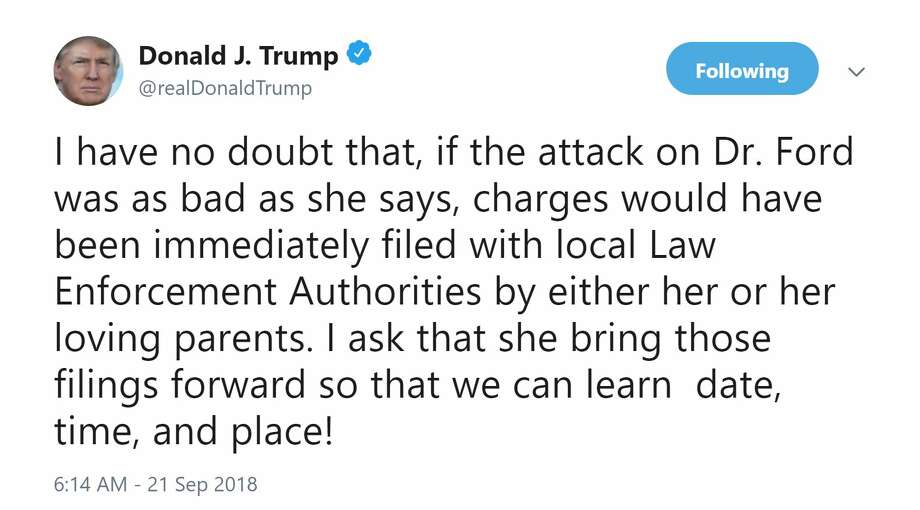 In response, the hashtag #WhyIDidntReport circulated Twitter with countless responses highlighting that fear and shame often hold precedence over seeking justice. In fact, anyone who's gone through an embarrassing or violating incident can understand why it takes so long to come forward and tell the world about how you were mistreated and defiled; how utterly helpless you were to stop it.
And it doesn't stop there–shame and humiliation are only the beginning of their emotional whirlwind. After experiencing sexual assault, shame is a natural response to feeling exposed and reprehensible. Victims often see themselves as damaged or unlovable after keeping their experiences a secret for fear of being judged.
Ford waited 20 years to share her trauma with another person and waited 30 years to seek professional help regarding it. This seems much less shocking when you realize that only 12% of child sexual abuse is ever reported to the authorities according to Child Abuse and Neglect.  
Had Kavanaugh not been nominated for the Supreme Court, these accusations would never have come to light. Ford decided to come forward with her assault because she, "felt guilty and compelled as a citizen about the idea of not saying anything," as she wrote to Senator Feinstein.
Although the #MeToo movement has been able to accomplish a great deal and has given many victims the confidence to speak up, it hasn't covered the whole lot of victims and abusers.
Victims often end up blaming themselves for their trauma because they dissect the events leading up to it, wondering what action or decision of theirs contributed to the assault. Women regularly combat ridicule in these matters, especially when it comes to their choice of clothing and consumption of alcohol. No woman should have to check herself in social settings in order to prevent being violated.
Reporting sexual harassment can be terrifying not only because of the suspicion victims face from all those around them but also due to the fear of having to talk about it repeatedly, re-living the event over and over again. It can be traumatic to have to endure extensive questioning about how someone violated their body– from complete strangers no less. This is made even more difficult when people in positions of power don't take the story completely seriously.
Ford is being victimized once again after coming forward and reliving her assault in the public eye. She has been ridiculed and sent death threats resulting in her relocating out of her home. She has been hacked online and even impersonated which has led to the spread of fake stories about her.
In support of Ford and Ramirez, a national walkout is scheduled September 24th at 1 PM E.T.
If there's one thing to learn from this ordeal, it's that although we are almost a year into the #MeToo movement, we still have considerable progress to make.
While millions around the world have gotten the courage to raise their hands and say "Me too," it's now time to show our solidarity; not through words, but through punishing those who are at even the highest levels of power for the crimes they've committed.
—
Edited by: SARAH HAKIM and AMBREEN SHEIKH
Editor-in-chief: SADAF AYAZ